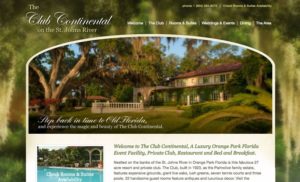 Club Continental is a Luxury Orange Park Florida event facility, private club, restaurant and bed & breakfast. Nestled on the banks of the St. Johns River sits this amazing 27 acre resort and private club. To showcase this beautiful getaway, The Club Continental went to the professionals at InsideOut Solutions, who specialize in website development for the hospitality industry, to create a whole new web presence. The new website is a window into the old Florida feeling one gets when staying at The Club Continental. With large image areas the true beauty of this spectacular vacation destination can more easily showcase the experience one would expect prior to physically being at The Club Continental.
Yet, don't let the looks fool you, there's brains behind this beauty. the new Club Continental Website is a completely custom site that is built around the most powerful client management system on the web, WordPress. This allows the user to log in from any computer and make text changes, upload images, create pages, and most importantly blog posts. Blogging is the number one most important activity one can do to keep their website ranking high in the search engines. By blogging, you are creating fresh content with key words recognized by search engines, keeping your site shiny and new, not hidden in a haystack of endless online marketing competition.
We look forward to seeing you soon!