The 23rd Annual Gourmet Night 2017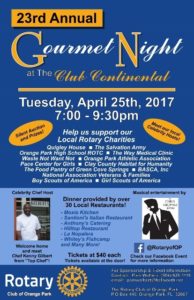 On April 25, 2017, The Rotary Club of Orange Park will be holding it's Annual "Gourmet Night" event. Starting at 7:00 pm and located on the banks of the St Johns River at The Club Continental in Orange Park, you will be part of an evening of friendship and fellowship wrapped up with great food donated by over 30 local Restaurants. The event is an opportunity to support non-profit organizations in our local area.
The Rotary Club of Orange Park was established in 1969. Our club provides a unique opportunity to make a difference in the local and global community through inspired action
and specific projects for doing good. This year The Rotary Club of Orange Park Charitable Foundation is proud to be supporting many local charities who provide much needed services to the less fortunate in our community.
Please join us in celebration at our 23rd Annual Gourmet Night. Your support is valued whether it is through attendance, sponsorship, restaurant participation, or donations for our Silent Auction. We hope to see you there.
Questions and Rotary Contacts
Pam Wolbert (904) 626-1116 – pamwolbert@bellsouth.net
Shirley Dyson (904) 813-3760 – sdyson@fwaonline.com
Larry Klaybor (904)868-7910 – larryklaybor@yahoo.com