March 3, 2014 by Chef Sheldon
Meet owner Karrie Massee as she guides you around the historic grounds.  Learn about how her family is connected with the Palmolive Soap Company, and how they were instrumental in the development of Orange Park.
November 9, 2012 by Chef Sheldon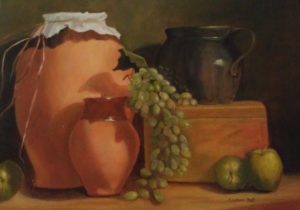 For a period of four to six weeks, a local artist graciously exhibits their paintings in the Garden Room at The Club Continental for your visual enjoyment. This artwork is available for purchase by visiting the Suites Office at the Club.
Our current featured artist is Cornelia Pratt, who has been painting for about 20 years. She concentrated in watercolor at first and has been studying and working more recently in traditional subjects which she has executed in oils. Connie has a luminous, painterly style. She is a member of the Art Guild of Orange Park and participates in other arts organizations. Connie has won many awards; her latest one coming as a Judge's award in "Food Delights" for the charity Waste Not-Want Not held at Great Hang Ups Gallery in Fleming Island. Connie and her husband reside right here at the River Oak condominiums.
Please stop by the Garden Room and see her art the next time you visit The Club Continental.