Monthly Archives:
September 2011
September 28, 2011 by karrie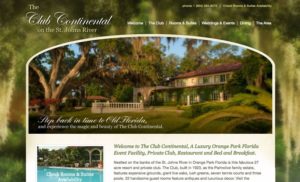 Club Continental is a Luxury Orange Park Florida event facility, private club, restaurant and bed & breakfast. Nestled on the banks of the St. Johns River sits this amazing 27 acre resort and private club. To showcase this beautiful getaway, The Club Continental went to the professionals at InsideOut Solutions, who specialize in website development for the hospitality industry, to create a whole new web presence. The new website is a window into the old Florida feeling one gets when staying at The Club Continental. With large image areas the true beauty of this spectacular vacation destination can more easily showcase the experience one would expect prior to physically being at The Club Continental.
Yet, don't let the looks fool you, there's brains behind this beauty. the new Club Continental Website is a completely custom site that is built around the most powerful client management system on the web, WordPress. This allows the user to log in from any computer and make text changes, upload images, create pages, and most importantly blog posts. Blogging is the number one most important activity one can do to keep their website ranking high in the search engines. By blogging, you are creating fresh content with key words recognized by search engines, keeping your site shiny and new, not hidden in a haystack of endless online marketing competition.
We look forward to seeing you soon!
September 28, 2011 by karrie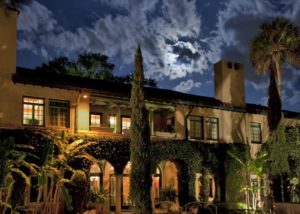 The Club Continental's diverse assets offer something to fit the needs of all of our members and guests. Read more about becoming a member.
What do you get as a member? Well to name a few we send monthly newsletters to keep members informed of upcoming events; enjoy the dining room and have one of our artistic chefs create wonderful dishes to satisfy all the senses. In addition, as a club member you can enjoy a 10% discount off standard room rates, chose from one of our twenty two guest rooms with a view and continental breakfast each morning. Take advantage of your River House Pub privileges on a cash or credit card basis, or indulge in a relaxing day poolside. Visit our club page to learn more.
Stay at Club Continental, on the Johns River in beautiful sunny Florida.
September 28, 2011 by karrie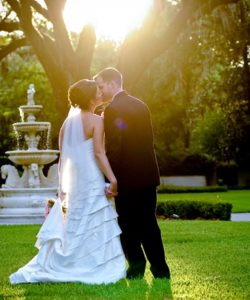 Club Continental is one of the premier locations for weddings and receptions in this area. Romantic, charming, and unforgettable setting for your very special day near the St. Johns River in sunny Florida.
Have your wedding in our new garden room, this 2,500 square foot addition gives the famous Palmolive Estate about 6,000 square feet of meeting space for fabulous weddings overlooking the scenic St. Johns River, FL. The new addition follows the traditional Mediterranean style décor with travertine tile floors, stucco arches and the 'old world' charm for which the club is famous.
The Club is also known for gourmet food with exceptional quality and beautiful presentation.
You will find our staff very accommodating, professional and pleasant to work with. It is important to all of us at Club Continental that you, your family and guests thoroughly enjoy your very Special Day.
For more information concerning weddings at Club Continental, please call Carla Sparks at (904) 264-6070 Extension 113, or email Carla@theclubontheriver.com
September 17, 2011 by karrie
In the 1880's great Pleasure Boats cruised the scenic St. Johns near the little town of Orange Park, and B.J. Johnson, looking for a place to escape the harsh Wisconsin climate, brought his family here to winter. His daughter Karrie's health had been declining and he had already lost two children to consumption (tuberculosis) and did not want to lose another child. The winters in Milwaukee had been hard on the sick children, and he was eager to try something different and so came south. While Palm Beach and Miami had not yet become popular resort towns, the areas of Orange Park and Green Cove Springs drew northerners to their bath houses and hot springs believed to aid one's health.
B.J. Johnson and his family stayed at the Park View House (later named the Marion Hotel), a large hotel built at the corner of Kingsley Avenue and River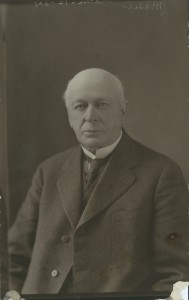 Road, the area where the Moosehaven now occupies. Near the hotel and extending well into the river was a 1,200 foot wooden pier, which could accommodate steamboats, thus, attracting the northern tourists to the area. Mr. Johnson found that he could rent the house just across Kingsley Avenue from Mr. Washington Benedict, founder of Orange Park. The house, built in 1870, and believed to be part of the Kingsley Plantation, became the winter home of the Johnson family for many years.
Winterbourne
His daughter, Karrie, who had spent much of her teenage years in Orange Park, came to love the house and the area, and in 1906 persuaded her husband, John Albert Ferguson to buy the waterfront estate. They named their property "Winterbourne", or "Winter Waterway" in Albert's native Scottish tongue. Mrs. Karrie Ferguson lived in the home until her death, well in her 80's.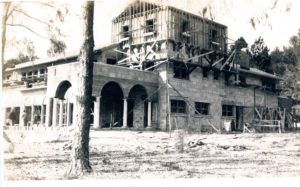 Mira Rio
In 1917, Karrie persuaded her brother Caleb Johnson to buy twenty acres of her property. Caleb was retiring from the soap company founded by their father, B.J. Johnson as the Johnson Soap Company. Under Caleb's management, the company had expanded considerably and he changed the name to the Palmolive Soap Company, reflecting the key ingredients of its soap. Caleb and his wife Elinor commissioned an architectural firm in Milwaukee to design a Mediterranean structure they named Mira Rio. Building began on the banks of the St. Johns River in early 1922 and the family took up residence in May, 1923. Just one year after constructing Mira Rio, in 1924 Caleb Johnson passes away, leaving the estate to wife Elinor.
At this time, Orange Park was basically no more than a country village. There were no paved streets, no water, sewer, electricity or town employees. Therefore, in order to get electricity in the house it was necessary to dig a 10-inch wide, 400 foot deep Artesian well.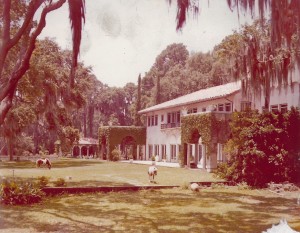 This well operated an electric turbine which recharged the large signal batteries that provided the house with basic illumination. The cooking was done on a very large wood stove which was never allowed to go out. Heating was supplied by a coal-burning furnace in the basement. Since the architects were from Milwaukee, they could not conceive of a house without a basement. Therefore, Mira Rio contained one of the only in the area; a very large one with several storage rooms. The entire basement and foundation was constructed of reinforced concrete 12 inches thick.
Elinor Johnson and her daughters, especially Margaret, loved to have their friends from the north visit during the "season", and often all nine bedrooms were full of guests. In the early 1920's there were parties and activities of all sorts from bridge, horseback riding, boating and swimming to fancy dress or formal balls. In the Club Continental there are pictures taken during this festive period.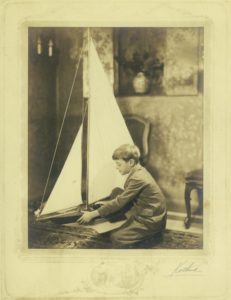 Late in the 1930's ownership of the estate passed from Elinor to Margaret Johnson Massee, and in 1945 the estate was passed equally to her children Margo Massee Tisdelle and Caleb Johnson "Jon" Massee. Margo and her husband, with their children, lived in Mira Rio until she sold her share to her brother Jon in 1964.
The Club Continental
In 1966, lifestyles and the economy had changed to the point where Mira Rio no longer had its house staff of five and grounds crew of six as had been the case in the Johnson's day. Business men recommended that the house be torn down and the beautiful grounds used for residential development. Instead, Caleb "Jon" Massee conceived the idea of turning Mira Rio into a private member club to offer the area what it did not have. Thus, the Club Continental was born. By turning Mira Rio into the Club Continental, the community gained a much needed recreational facility and a source of income needed to maintain a large estate was obtained.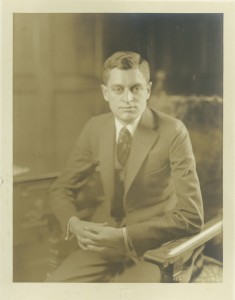 In 1980 Caleb (Jon) Massee purchased the Winterbourne home, which in 1952 had been sold to Mr. and Mrs. Dunlap, taking it out of the family. Caleb's wife Fredrica restored it and developed it as the "Inn at Winterbourne", with guest suites on the second floor and banquet rooms on the first. The house still stands and serves as a beautiful venue for weddings, receptions, business meetings and other gatherings.
The River House Pub
The River House began as a pre-civil War cottage built on a Spanish land grant five miles south of Orange Park. During the 1890's the cottage became the first golf club house in North Florida. (Look for the pictures of the ladies in their golfing outfits at the River House). Scheduled for demolition in 1976, Mrs. Frederica Massee, Jon's wife, successfully made up her mind to save it. She had the cottage moved to the edge of the high river bank beside the Club Continental and restored. Frederica's daughter, Jeanne Massee Patterson, and her husband Bill turned the cottage into an intimate pub with lively entertainment enjoyed by club members and guests. In warm weather, patrons relax and enjoy live entertainment and the pleasure of "river watching" from the terraces overlooking the St. Johns.
Over the years the Club Continental has expanded its facilities to include a fine dining restaurant, seven tennis courts, three swimming pools, and twenty-two guest rooms. Many of the rooms boast pictures of original advertisements of the Palmolive and Johnson Soap Company as well as Palmolive dish soaps. The existing lawns, along with 300 year old Live Oaks, Magnolias, and formal gardens are carefully and lovingly maintained. The Club Continental, managed by Karrie Massee, Jon's daughter, has grown to over 700 members who enjoy and appreciate the atmosphere of "Old Florida" the Club has grown to represent.