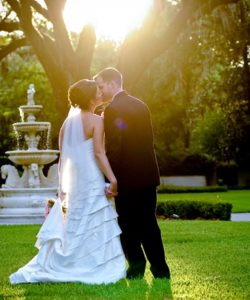 Club Continental is one of the premier locations for weddings and receptions in this area. Romantic, charming, and unforgettable setting for your very special day near the St. Johns River in sunny Florida.
Have your wedding in our new garden room, this 2,500 square foot addition gives the famous Palmolive Estate about 6,000 square feet of meeting space for fabulous weddings overlooking the scenic St. Johns River, FL. The new addition follows the traditional Mediterranean style décor with travertine tile floors, stucco arches and the 'old world' charm for which the club is famous.
The Club is also known for gourmet food with exceptional quality and beautiful presentation.
You will find our staff very accommodating, professional and pleasant to work with. It is important to all of us at Club Continental that you, your family and guests thoroughly enjoy your very Special Day.
For more information concerning weddings at Club Continental, please call Carla Sparks at (904) 264-6070 Extension 113, or email Carla@theclubontheriver.com