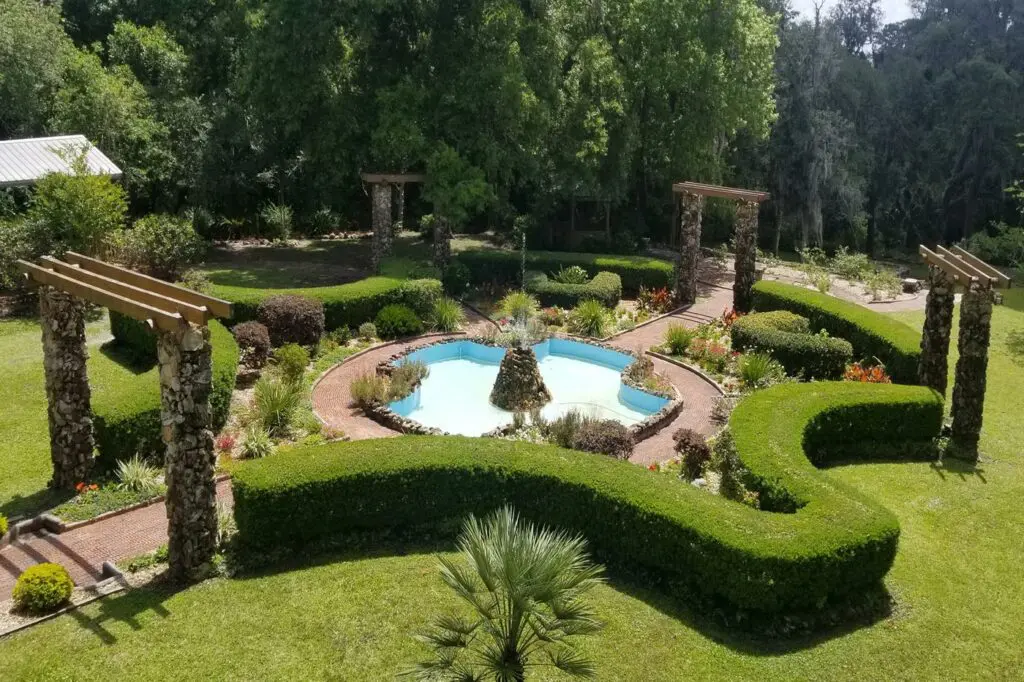 Immerse yourself in Florida's lush, natural beauty with a visit to Ravine Gardens State Park. This historic and beautiful, New Deal-era state park located in Palatka, FL, is less than an hour's drive from Club Continental and hosts the annual Florida Azalea Festival.
Fans of the natural world will thoroughly enjoy a visit to Ravine Gardens State Park. The park consists of two large, natural ravines carved into the steep banks of the St. Johns River by the ever-running, spring-fed, Whitewater Branch creek.
The nearly 90 year old park came into existence during the 1930's via the WPA program of the Great Depression. One of only nine New Deal-era state parks created in Florida. The steep banks of the ravines were transformed into stunning formal gardens by more than 270,000 plants and a trail system.
Today, the park combines formal and natural gardens with five formal gardens and trails to explore, plus the Court of States. While much of the park's original landscaping still exists, the ravines have been allowed to go back to a more natural state.
Exploring The Park
Hikers will enjoy Azalea Trail. This two-and-a-half-mile trail winds through the park's ravines with historic suspension bridges, stone staircases, and incredible views. The rustic trail includes plenty of challenging terrain in the form of steep, narrow paths complete with mud, roots, and other forms of natural entertainment.
Wearing your nice shoes and prefer to keep them that way? Take a walk along the park's Ravine Loop Road. This level path provides dramatic views of the gardens and surrounding areas. It also features thoughtfully placed picnic tables and grills. Due to damage sustained during 2017's Hurricane Irma, the Ravine Loop is currently closed to vehicles.
Florida Azalea Festival
Ravine Gardens State Park could have just as easily been named "Azalea Ravine Gardens." Nearly 100,000 azaleas were planted here in the 1930's, along with 11,000 palm trees and more than 250,000 ornamental plants.
Of the 64 varieties originally transplanted here, eighteen different types still flourish. And I do mean FLOURISH. The garden's peak flowering period – late January to April – sees around 60% of the hundreds of remaining azaleas blooming simultaneously.
This "rolling bloom," as it is called, inspired the annual, two-day Florida Azalea Festival, held the first weekend of every March. The park celebrates these "Azalea Days" with special weekend walking tours during the month of February.
The Court of States and More
The Court of States, located near the park entrance, houses a 64 foot obelisk dedicated to Franklin D. Roosevelt. Flags of the 48 states that were in the Union when the park was established are displayed here on holiday weekends.
Other park features include the Roy E. Campbell Civic Center complex, with its covered pavilion, auditorium, and meeting rooms. The WPA-era stone terraces, water features, fountains, and garden beds are also fascinating. A playground in the park includes swings, a slide, and climbing equipment for the kiddos.
Ravine Gardens State Park
1600 Twigg St, Palatka, Florida
Open 8am to sundown, 365 days a year.
Learn more at www.floridastateparks.org. You can also visit the park on Facebook.
Historic downtown Palatka is just a few miles northeast of Ravine Gardens. The town's concentration of public murals and historic houses make it worth exploring. It's also home to the oldest diner in Florida, wineries, and a number of annual festivals. Explore Ravine Gardens, grab a bite and do some sightseeing in Palatka, then head back home to your comfortable accommodations at Club Continental!