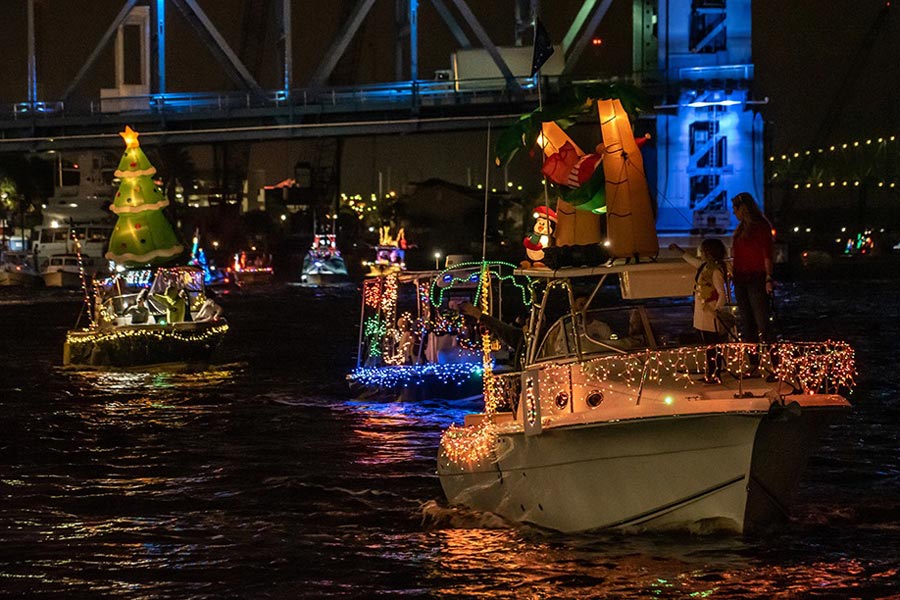 The holidays are just around the corner and a host of upcoming, fun and festive events fill the calendar. Thanksgiving, the Jacksonville Light Boat Parade, holiday tree lightings, and more!
There's always something happening in the Jacksonville area but that's even more true when the end of the year rolls around. Whether you're here for the holidays or just to relax, this time of year is always fun. Everywhere you look there are cheery, twinkling holiday lights, bright decorations, and people are in a holiday mood, what's not to like?
While some health and safety concerns remain, more events are going forward in person this year than last. Though a few are still on hold or are being presented virtually, most are back on the calendar and in-person.
The first big event of the season following Thanksgiving is the annual Jacksonville Light Boat Parade. This popular, outdoor event is for anyone who likes boats, holiday light displays, parades, fireworks, or the holidays. Just about everyone, in other words!
Jacksonville Light Boat Parade 2021
The Jacksonville Light Boat Parade sees elaborately decorated boats of all types in a flotilla up and down the St. Johns River. The decorations can be quite elaborate with twinkling lights, costumed characters, music, and more. You never know what you'll see!
The parade starts off from the Riverfront Hyatt at 6pm and ends with a with a fireworks show at 8pm. Don't miss the fantastic fireworks "waterfalls" off the Main Street and Acosta bridges. Mesmerizing. Learn more at specialevents.coj.net. You can also follow this event on Facebook.
Christmas in the Cathedral District: Let There Be Light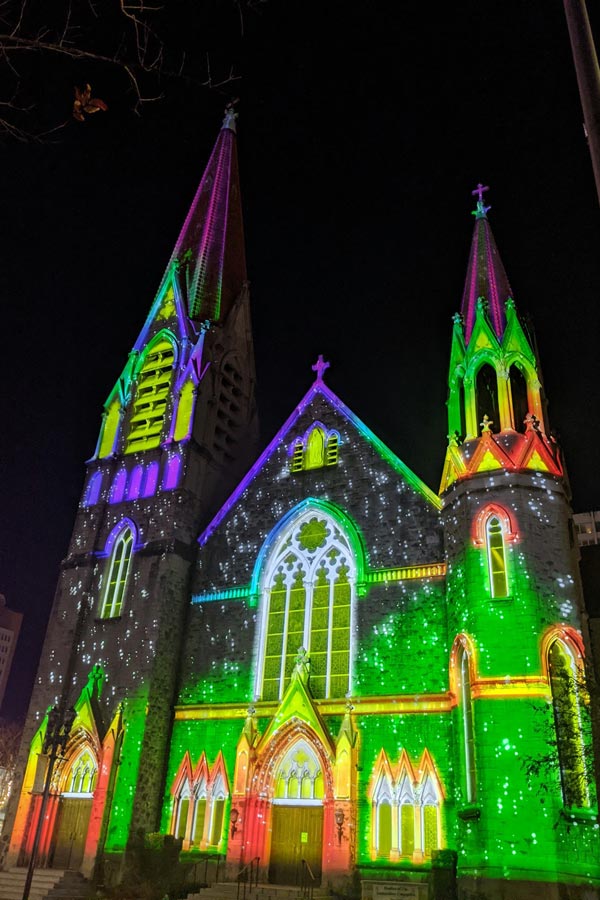 Jacksonville's Cathedral District is already stunning with its towering collection of beautiful and historic churches: St. John's Cathedral, First Presbyterian Church, First United Methodist Church, the Basilica of the Immaculate Conception, and Historic Mt. Zion A.M.E.
Now imagine they and other landmark buildings in the district gracefully illuminated for the holidays with more than 150 decorated trees, ringing bells, and holiday music. "Wow" is right.
Let There Be Light, the holiday self-guided driving tour of the Cathedral District, runs from November 27th through December 31st, 2021. The tour includes optional audio narration and music by the Jacksonville Symphony.
The last three weekends of the event, Thursday through Sunday, will feature an exclusive, Light Art & Sound Installation projected onto one of the district's historic churches. A different church will be used for each time and feature its own laser light show.
Learn more about at cathedraldistrict-jax.org
Orange Park Hometown Holiday 2021
Jacksonville has a lot to offer but adjacent Orange Park, Club Continental's hometown, also has some fun, annual holiday events to attend.
Orange Park is a small southern suburb of Jacksonville on the Saint Johns River. We're a little quieter and calmer, with an old world Florida feel. Our community has lots of nice parks, good shops and dining options. And all with easy access to major area beaches and attractions.
Orange Park's holiday festivities kick off on December 7th at 5pm with Light the Park at Orange Park's Town Hall Park. Attendees will enjoy a reading of "'twas the Night Before Christmas" and the lighting of thousands of twinkling holiday lights.
Hometown Holiday in the Park is an old fashioned holiday celebration. The event includes a shopping vil­lage, hay rides, a trail of lights, live entertainment, and more! Hometown Holiday in the Park 2021 is scheduled for December 10th and 11th, 5pm to 9pm at Clarke House Park.
… And More
The above is just a short list of some of the more popular holiday events taking place near our Orange Park, FL hotel this season. Club Continental is here for you and we're confident our comfortable and convenient location will make an excellent home base, no matter what brings you here.
Happy Holidays from all of us at Club Continental!