March 21, 2017 by Chef Sheldon
The 23rd Annual Gourmet Night 2017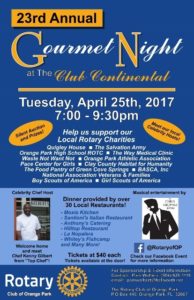 On April 25, 2017, The Rotary Club of Orange Park will be holding it's Annual "Gourmet Night" event. Starting at 7:00 pm and located on the banks of the St Johns River at The Club Continental in Orange Park, you will be part of an evening of friendship and fellowship wrapped up with great food donated by over 30 local Restaurants. The event is an opportunity to support non-profit organizations in our local area.
Read the rest of this page »
August 19, 2016 by Chef Sheldon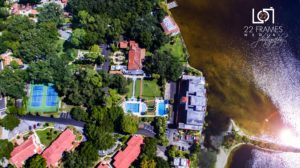 May 11, 2016 by Chef Sheldon
We are proud to add a USDA Prime Steak House Menu for our members and guests. To cook these steaks we have installed a top of the line Vulcan Steakhouse Broiler to bring Steak house quality to your plate. Starting in June we will offer a Steak House Menu in addition to our monthly menu. Look forward to Items like Prime dry aged N.Y strip Steak and Dry aged Prime Tomahawk Cut Ribeye for two.
Just another reason to be a Member of the Club Continental.
April 1, 2016 by Chef Sheldon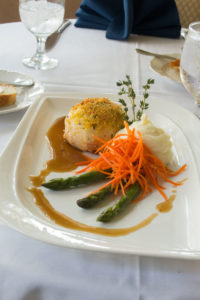 April 29, 2015 by Chef Sheldon
March 27, 2015 by Chef Sheldon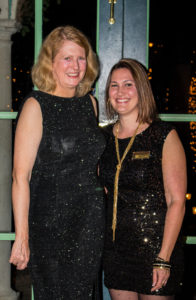 March 27, 2015 by Chef Sheldon
March 27, 2015 by Chef Sheldon
January 31, 2015 by Chef Sheldon
December 15, 2014 by Chef Sheldon