Fall Clinic Schedule
Guest Junior Fee – add $5 | Guest Adult – add $10
B Team Clinic – Monday 8:30 am to 10:00 am $15
A Team Clinic – Monday10:00 am to 11:30 am $15
Men's Tri Team Clinic – Monday 7:00 pm to 8:00 pm (Pace) $10
Mixed Doubles Clinic- Tuesday 6:45 pm to 8:15 pm $15
C Team Clinic -Thursday 8:30 am to 10:00 am $15
Working Women's Clinic- Thursday 6:00 pm to 7:00 pm $10
Men's Clinic – Thursday 7:00 pm to 8:00 pm $10
Cardio Tennis – Friday 9:00 am to 10:00 am $10
Shot of the Week Clinic – Friday 10:00 am to 11:00 am $10
Any level Men's Clinic – Saturday 9:00 am to 10:00 am $10
Any level Ladies Clinic – Saturday 10:15 am to 11:15 am $10
Boot Camps (2.5 hrs) – Saturday 9:00 am to 11:30 TBD
Junior Clinics
About Us
Director of Ten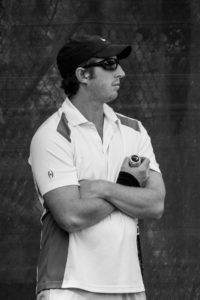 nis
Creighton Blanchard has been the Director of Tennis at Club Continental since February of 2013. He is USPTA certified teaching professional and has been coaching for over 9 years and playing the sport for 16 years. He played junior tennis at the state and national level with substantial success as well as clinching two state titles in tennis for Bolles here in Jacksonville, Florida. He played 3 years for the University of Alabama and reached a national doubles ranking of 34 in the country his sophomore year. He graduated with a double major in Finance and Economics and has a five year old son named Tyler. His modern approach and dynamic training exercises learned through training at UA has allowed citizens of the Orange Park community to take their games to the next level. He specializes in doubles strategy, efficient movement and modern technique.
To book a lesson with Creighton, please click here.
To watch instructional videos on strategy and technique, please click here.
Assistant Pro
Adam Hoffman has been playing tennis for 15 years and played varsity tennis for 4 years in high school. He briefly started at Florida Southern for 6 months before moving home to focus on academics. He taught two years at Eagle Landing for two summers and has been the assistant at Club Continental. He has a son named Blaine and enjoys playing gold when not on the tennis court.
To book a lesson with Adam, please click here.
League Play
At Club Continental, we have ladies teams and junior teams. No men's currently exist however please contact us if you are interested in being a part of one and then the club can register a team. The ladies teams include an A team, first coast A team, B team, working women's B team, first coast C team. The Junior teams consist of an orange ball team, green ball team, USA Junior team, and our Advanced tournament team.
Please call the Pro Shop at 904-269-6090 or e-mail creighton.blanchard@gmail.com for more information