Romantic St. Augustine, Florida is the oldest continuously occupied, European-established settlement in the United States. When you tour Saint Augustine you're stepping well back into a long, rich, and fascinating history.
Known as the "Ancient City," Saint Augustine was initially settled in 1565 by Spanish admiral Pedro Menéndez de Avilés, who can also add first governor of Florida to his resume.
With a city that's been around for well over 400 years, you know there's going to be plenty to see and do – and Saint Augustine does not disappoint! Its cobblestone streets lead to both historic landmarks and quaint eateries and unique shops, alike.
Tour Saint Augustine
Lightner Museum – lightnermuseum.org
A museum of primarily American Gilded Age pieces, The Lightner Museum is unique also for being contained in the historic Hotel Alcazar, an exquisite, 1887 Spanish Renaissance Revival style building listed on the National Register of Historic Places and an attraction all on its own.
Flagler College – legacy.flagler.edu
Founded in 1968, Flagler College is a private, four-year liberal arts college whose centerpiece is the Ponce de León Hotel, built in 1888 as a luxury hotel and is now listed on the National Register of Historic Places.
Castillo de San Marcos – www.nps.gov/casa/
The oldest masonry fort in the continental United States, construction on Castillo de San Marcos began in 1672. A National Monument and the oldest structure in St. Augustine, there's plenty to see and explore with lots of rooms, a great view of the city, regular daily programs, ranger-led tours, and cannon firings.
Mission of Nombre de Dios – missionandshrine.org
Nombre de Dios is a Spanish Catholic mission that was founded in St. Augustine in 1565. The Mission Nombre de Dios Museum features such attractions as the original casket of the founder of St. Augustine, Pedro Menéndez de Avilés, vestments and chalices from the Diocese of St. Augustine's archives, artifacts found during excavations of the mission grounds, and much more.
Fort Matanzas National Monument – www.nps.gov/foma/
Fort Matanzas was built in 1740 by the Spanish to guard rear access to St. Augustine via the Matanzas River. Designated a National Monument in 1924, Fort Matanzas is open to exploration by the public with exhibits, interpretive rangers, and informative videos.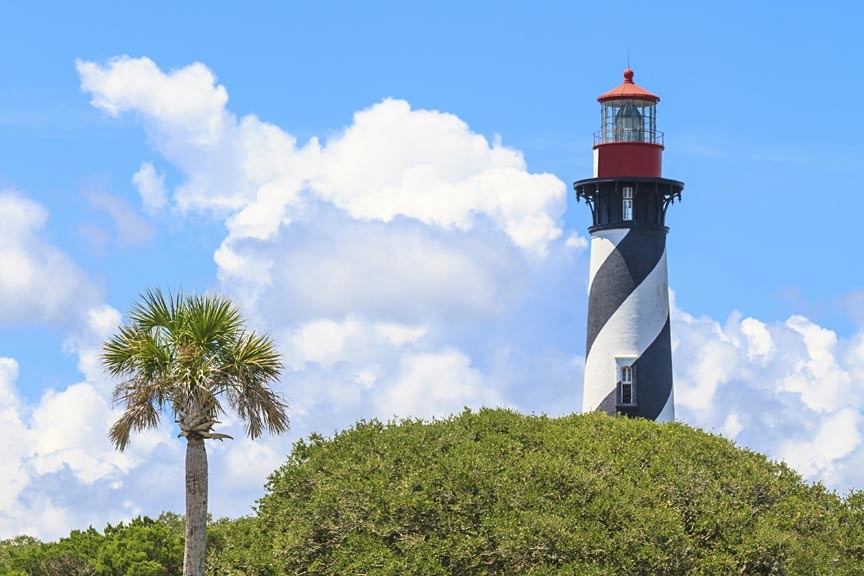 St. Augustine Lighthouse & Maritime Museum – www.staugustinelighthouse.org
Restored in 1980, the St. Augustine Lighthouse is an active light built in 1874 at the north end of Anastasia Island. Open to the public, the tower is overseen by the St. Augustine Lighthouse and Museum project.
St. Augustine Eco Tours – staugustineecotours.com
Beyond history, St. Augustine has a wealth of natural attractions, too – go boating, kayaking, or sailing with a professional Naturalist on the beautiful waters surrounding historic St. Augustine. Get out on the water for some serious, natural fun!
We've barely scratched the surface of the things there are to do and see when you tour Saint Augustine – we didn't even mention the Fountain of Youth Archaeological Park, the Basilica Cathedral, the Colonial Quarter, and so much more.
Saint Augustine Lodging
No matter what brings you out to the North East Florida coast, once you're here, a visit to St. Augustine is a must. Club Continental in Orange Park, Florida, on the other hand, is a must-stay.
A romantic and intimate hotel, private club, and special events venue. built on the banks of the St. Johns River in 1923, our twenty-two handsome guest rooms reside under towering, 300 year old Live Oaks draped with Spanish moss and so can you! Book your stay at Club Continental, now!