We take the safety and security of our guests seriously and want you to be able to enjoy a worry-free experience from The Club Continental. The hotel is currently open and accepting reservations. Our lodging facilities make it easy to maintain social distancing while getting some much needed time while enjoying the river views. In addition, many of our rooms include kitchenettes so you can enjoy meals in the comfort of your room.
We are adopting preventive measures that are in line with Centers for Disease Control and Prevention (CDC) recommendations. This includes additional and continual cleaning and disinfection of all guest areas, limiting guest and staff interactions, and maintaining the recommended 6 feet social distancing. We appreciate your patience, are thankful for your loyalty, and look forward to seeing you soon!
New Takeout Service Announced!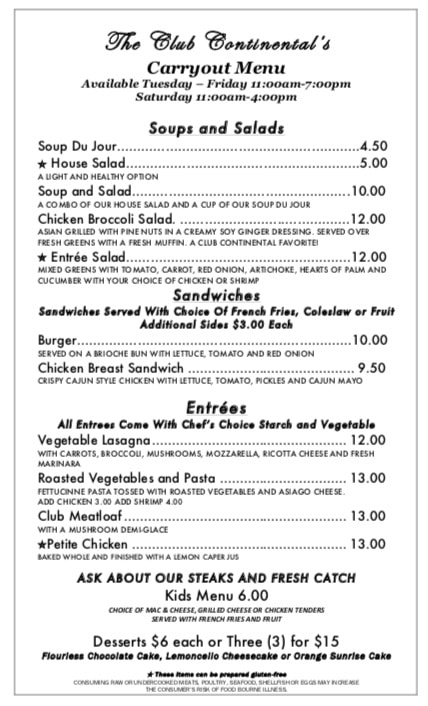 While the restaurant is closed to in-house dining it's open for takeout! The restaurant staff remains in full swing providing Orange Park takeout meals to the community as well as hotel guests. During this time of uncertainty, it's nice to take a moment to spoil yourself a bit. Take a break and leave the cooking to us!
Call 904) 264-6070 To Place Your Order
Orange Park takeout Carryout is available Tuesdays-Fridays 11am-7pm and Saturdays 11am-4pm. Print Out a PDF menu to hang on the fridge!
What's Cookin?
How does a scrumptious meal of Petite Chicken baked whole and finished with a lemon caper jus sound? Or how about Fettuccine pasta tossed with roasted vegetables and asiago cheese? We also have burgers, lasagna, meatloaf, soups and salads. For the kids we're offering tasty mac & cheese, grilled cheese, and chicken tenders. Don't worry, we didn't forget dessert! Choose from flour-less chocolate cake, limoncello cheesecake or orange sunrise cake!
At Club Continental, Your Safety is Paramount
We have always been concerned with our guest's safety and are carefully monitoring the evolving coronavirus situation. We will update this page as things evolve. We hope to see you soon!