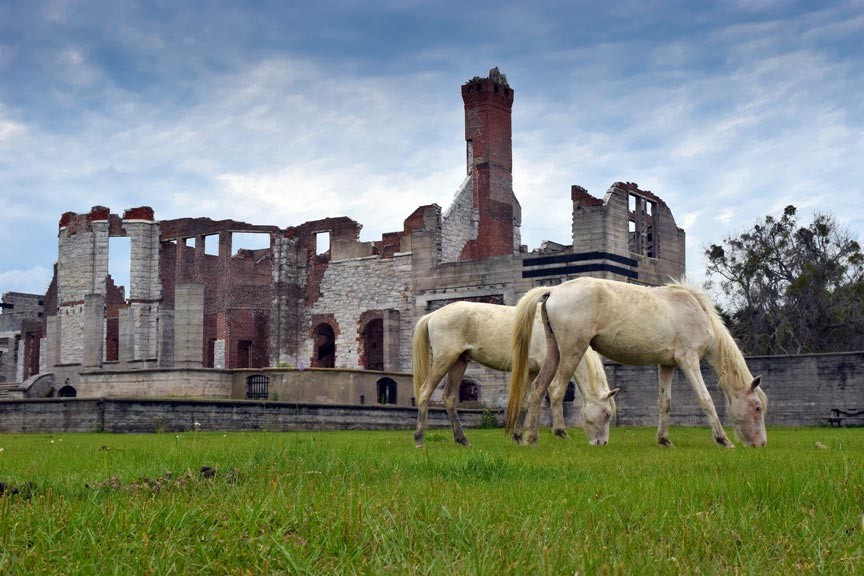 Cumberland Island is Georgia's largest and southernmost barrier island at 17.5 miles long, with 36,415 acres. The island has a storied history but is now almost all a national park.
Cumberland Island National Seashore was settled by humans as far back as 4,000 years ago. During the 16th and 17th centuries, it was a province of Spanish Florida. After the British drove out the Spanish, Cumberland Island became home to a number of cotton plantations.
By the late 1800's, the Carnegie family owned most of the island. A collection of small farms made up the rest of the population, many of them former slaves. In the 1950's the Carnegie family offered the National Park Service parts of the island.
Cumberland Island is known for its pristine maritime forests, salt marshes, and 17 miles of undeveloped beach. Live oak trees covered with Spanish moss and palmetto plants give the island a dreamlike quality. This sense is further enhanced by wild horses and the ruins of once great mansions.
Other animals on the island include deer, squirrels, raccoons, armadillos, and wild boars. The marshlands are home to alligators and many species of waterfowl.
Visitors come throughout the year to enjoy the many activities available on the island. There are five campgrounds and a 50 miles of hiking trails. Managed hunting and licensed fishing are also allowed. Other popular activities include beach combing, bird watching, photography, biking, and swimming.
An outdoor lover's paradise, in other words!
Numerous historic structures and ruins are on the island.  Guided van tours are available for the northern end of the island. There are also guided walking tours. Learn more with a visit to the Cumberland Island Museum on Osborne Street in St. Marys.
Cumberland Island
For more information, be sure to visit cumberlandisland.com and www.nps.gov
While there is no bridge to the island, the Cumberland Ferry makes regular trips most days of the year from St. Marys. You can check the Cumberland Ferry schedule here.
Cumberland Island Lodging
Club Continental in Orange Park, Florida, is a romantic hotel built on the banks of the St. Johns River. Just south of Cumberland Island, our historic private club, special events venue, and twenty-two guest rooms will take you back to a time when to vacation was to be treated like a king (or queen!). Treat yourself to the very best with a stay at Club Continental.