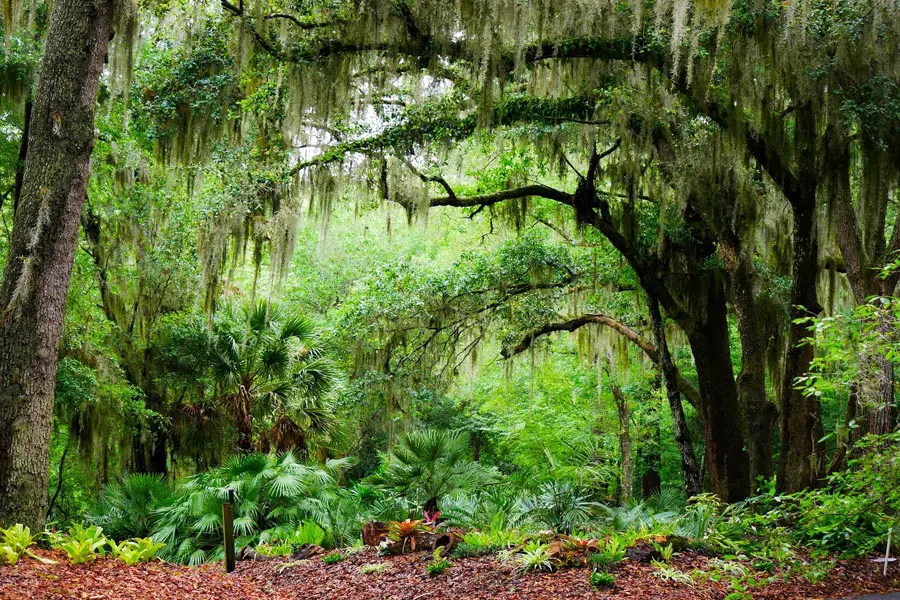 Looking to get out into some of the natural beauty that Florida is known for? The Jacksonville Arboretum & Gardens is your ticket with over 120-acres of urban woodland, a variety of hiking trails, and a lake to explore. All less than a half hour's drive from Club Continental!
Though Jacksonville is known for having lots to see and do, you could be forgiven for not automatically thinking of hiking nature trails. Yet that's precisely what the Jacksonville Arboretum & Gardens offer: a trek into nature, just 10 minutes from bustling downtown.
Not Always So Pristine
You may wonder how such a lovely section of woodland managed to survive untouched in the otherwise urban landscape. The fact of the matter is, it didn't.
For 20 years, from 1941 to 1961, the land was strip-mined for materials related to titanium production. After that, it served as an unofficial waste dump and wastewater treatment plant buffer.
Essentially left to its own devices for 30 years or so, the land crept back into a semi-natural state. A variety of separate ecosystems developed: fresh water ravine, oak hammock, salt marsh, upland sand hill, and others.
In 2004, a group of conservationists and nature fans put together a non-profit organization to rehabilitate the area. The group put together an educated, multi-step master plan, which was approved by the City in 2006. For two years, volunteers removed trash, reshaped, and rehabilitated the land.
In 2008, the trails opened and the Jacksonville Arboretum & Gardens were born!
Visiting the Arboretum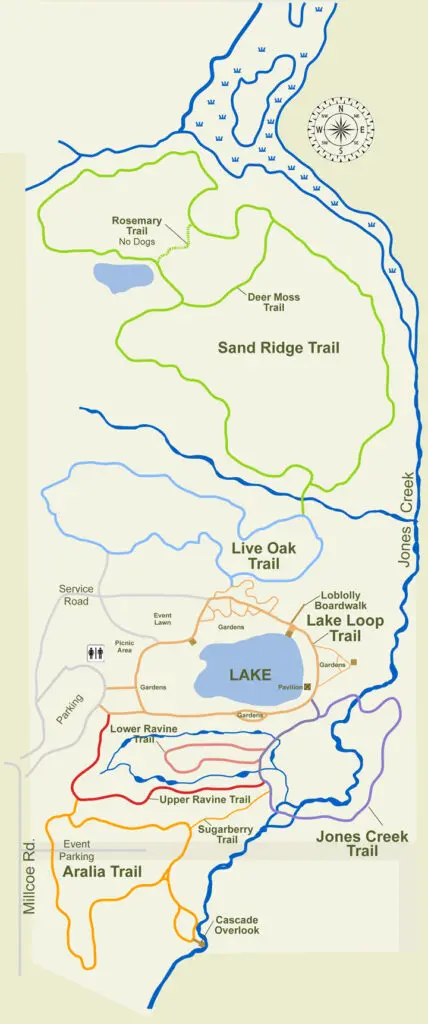 Unlike most of Jacksonville, the land here is not flat. The Arboretum's varied terrain includes a long ravine, a 2 acre lake, and sloping hills crisscrossed with over three miles of hiking trails.
Trails at the Arboretum lead through a variety of habitats and environments. The main trailhead is located just off the Arboretum parking lot. A nearby trail board presents information on the trails and sights within.
Everyone starts off on the Lake Loop Trail, one of the Arboretum's easiest. This gentle, .3 mile (483 m) loop trail encircles the lake. Other trails lead off from this loop to explore the grounds. They include the Live Oak Trail, Sand Ridge Trail, Jones Creek Trail, Upper and Lower Ravine Trails, and the Aralia Trail. Some trails are easier than others. Be sure to note how long and difficult each trail is before setting off.
The wide range of fascinating and beautiful plants in the Arboretum will amaze plant lovers. You'll see groves of live oak and loblolly pine, bright pinxter azaleas, and Christmas lichen. Bald cypress, sweetgum, cinnamon ferns, devil's walking stick, and so much more.
Along with all the lush flora, guests will see plenty of wildlife. Alligators, hawks, foxes, squirrels, osprey, turtles, owls, snakes, armadillos, and many others call the area home. Keep that camera handy!
Benches and picnic areas along the trails provide a chance to rest your feet and really take in your surroundings.
Spend the day exploring nature's beauty, then head back to your peaceful, comfy guest room at Club Continental on the St. Johns River!
Jacksonville Arboretum & Gardens
The Arboretum is located at 1445 Millcoe Road, Jacksonville FL 32225.
Hours are 8am to 7pm, Monday through Thursday, and 8am to 5pm, Fridays and Sundays.
Visit the Arboretum website for more information. You can also follow it on Facebook and Twitter.